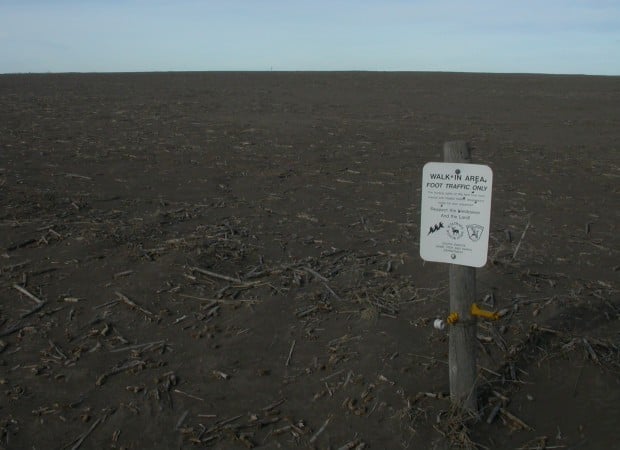 The Supreme Court of the United States has put a hold on President Obama's Clean Power Plan.
A new report from the Environmental Working Group says many ag producers are abandoning voluntary conservation efforts.
EWG used aerial imagery to track what happened between 2011 and 2014 with two simple but important practices – stream buffers and grassed waterways – in eight watersheds prioritized in the Iowa Nutrient Reduction Strategy. In that period, some landowners in those watersheds started following practices to control runoff, but others stopped. In the end there was no lasting gain in protection and no or miniscule progress in reducing runoff. To start, we should require landowners to meet four basic standards of care: (1) keep 50 feet of vegetation between cropland and waterways to filter polluted runoff, (2) heal or prevent temporary gullies, which are direct pipelines delivering polluted runoff to streams and lakes, (3) manage access of livestock to streams to prevent battered stream banks that collapse, fouling waterways and (4) don't spread manure on frozen or snow-covered fields.
Read the rest here.
Staggering habitat losses have put at risk the state's reputation as a ringneck Mecca. South Dakota lost 1.8 million grassland acres between 2006 and 2012, a sizable portion of which came from the federal Conservation Reserve Program (CRP), which pays producers to idle marginal cropland. As a result, pheasant numbers tumbled 30 percent from the 10-year average. Hunter participation and hunter harvest also have nose-dived. [Star-Tribune]
A decade ago CRP acres were about 1.5 million acres in South Dakota but that acreage number is
only about a million today
.
The 23.4 million acres enrolled in the CRP program in November 2015 is down from nearly 27 million acres in 2013, approximately 31 million acres in 2009, and over 36.8 million in 2007. Currently, there are just shy of 17 million acres under General CRP contracts, 5 million acres under Continuous CRP contracts, 1.1 million acres under Conservation Reserve Enhancement Program (CREP) contracts, and 380,000 acres in the Farmable Wetland program. Livestock producers should also be aware that haying and grazing of buffer strips is not allowed on CRP acres, except when emergency declarations occur. [Farm and Ranch Guide]
Operators with expiring Conservation Reserve Program contracts will be able to sell them for mitigation acres.
If they initially qualified for CRP contract by plugging some wetlands, those wetland could qualify as mitigation acres, if the farmer doesn't take the plugs out when the CRP contract expires. [Profit from wetland rules: Offer mitigation acres]
CRP turns 30 years old in 2016.
Kevin Woster photo.
— EWG (@ewg) February 8, 2016