Nothing says Father's Day like nuclear waste!
Remember South Dakota Disposal Systems and the Gilt Edge Mine?
If stacked appropriately, all the used fuel we have generated in the U.S. so far would cover a single football field about 7 yards deep. Although the amount of used fuel is not much of an issue now, possible growing demand for nuclear power might test that assumption. Tasks such as replacing coal or natural gas, producing hydrogen or electricity to power vehicles, desalinating water, or actively removing carbon from the atmosphere will require a lot of carbon-free nuclear energy. But we could then reprocess the used fuel to reduce the amount of waste requiring storage in a permanent repository. [LTE, Robert McTaggart, GenXer]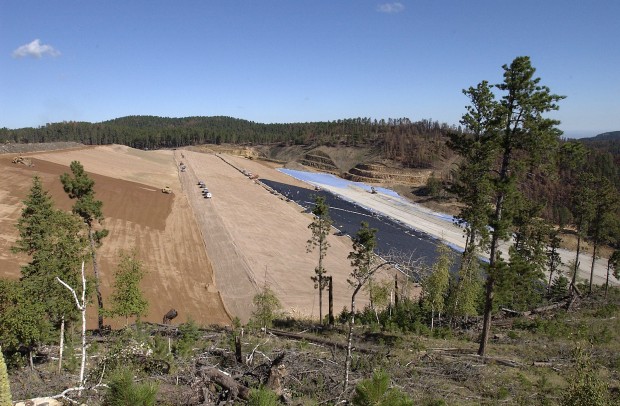 Reed Richards is an attorney practicing in Deadwood and Spearfish: he is also Treasurer for the Lawrence County Democrats.
The Rapid City Journal recently applauded the EPA for its actions on the Gilt Edge Mine disaster. Why don't South Dakota newspapers do some reporting on why the EPA has had to declare the area a Super Fund Site?
The record is clear. In the 1980's, Gov. Bill Janklow and his Republican toadies forced through the approval of the Brohm Mining permit (it's good for business, you know) even though knowledgeable opponents clearly pointed out that the bond was inadequate (so far, by about $90 million tax dollars and still counting).
So, what's the moral of this story? Have you heard of the Trans Canadian Pipeline? Good for business, the Republican politicians say. They don't need a big bond because their pipeline will never leak (really?). Besides, if it does leak, they will clean it up (sure they will). They won't go bankrupt like Brohm, (we have their word on that) and leave the taxpayers holding the bag.
This bullroar is South Dakota's very own Groundhog Day. When will the citizens stand up and tell the South Dakota Republican politicians to stop using South Dakota as a waste dump so their business supporters can make millions at the expense of South Dakota's clean air and water. [Reed Richards, Sioux Falls Argus Leader, links mine.]
Photo: Rapid City Journal.
Volcanic clays like bentonite mined near Belle Fourche make radioactive waste repositories such as the Waste Isolation Pilot Plant near Carlsbad, New Mexico possible. Bonus: the railroad from Belle goes right into Brookings!
What do you think, Pat: Brookings County is as good as anywhere, right?
Interim
really means
forever
.