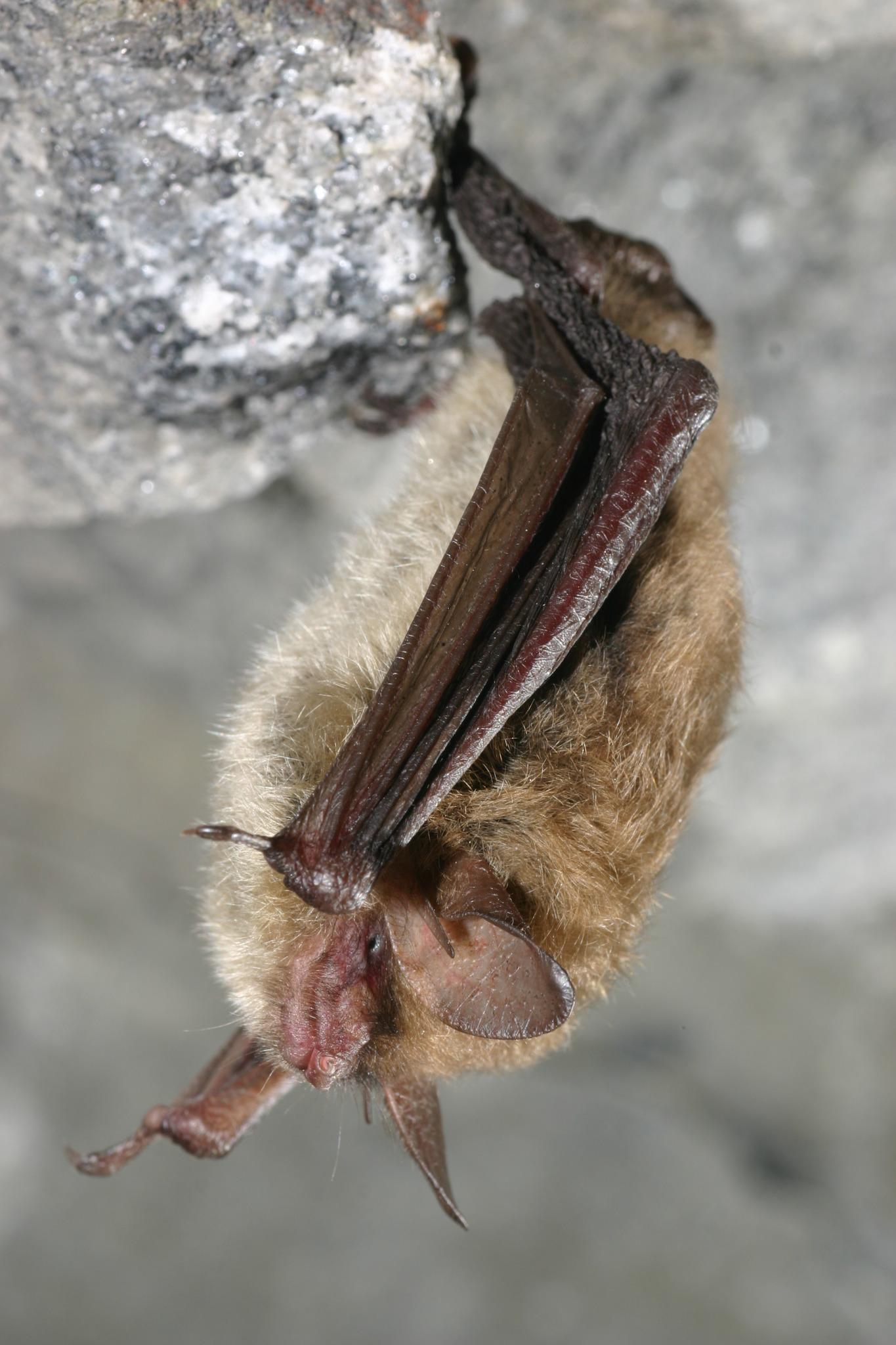 South Dakota's Republican blog hates the Rapid City Journal except when an editorial serves up a political dish it likes.
While it won't win any cutest animal contests, the northern long-eared bat deserves the same chance as any critter to continue to exist. We urge anyone who shares that concern to use the official commenting process. And if such a listing does occur — we certainly support trying to save the bats and preserve them as a species — we hope wildlife officials will use common sense while balancing the protection that would be offered against the potentially devastating economic impacts that could result. [editorial, Rapid City Journal, hyperlinks mine.]
In some caves in the Northeast, northern long-eared bat populations have declined by up to 99%.
Senator Dean Heller, Republican of Nevada, would allow open season on the sage grouse or, more specifically, development on the bird's habitat, while Senator John Thune, Republican of South Dakota, would like federal protection for the beleaguered northern long-eared bat. [Jonathan Weisman, In the Senate, a Day of Votes That Don't Count]
Logging out the basin for the
Grizzly Gulch Tailings Disposal Project above Pluma and Deadwood
in 1977 helped to launch this blogger's love of the Black Hills. Homestake Mining Company that also operated the sawmill near Spearfish, hired a local contractor who gave a farm boy and School of Mines dropout a skidder job.
Now, that sawmill is owned by
Neiman Enterprises
of Hulett, Wyoming.
South Dakota U.S. Sen. John Thune recently introduced a bill to prevent the U.S. Fish and Wildlife Service (FWS) from listing the northern long-eared bat under the Endangered Species Act (ESA). In 2011, the FWS reached a secret sue-and-settle agreement with two radical environmental groups to require listing determinations on more than 250 species across the United States, including the northern long-eared bat. On October 14, 2014, Thune sent a letter to the FWS with Rep. Kristi Noem encouraging the agency to withdraw its proposed listing of the northern long-eared bat as endangered and to refocus its attention on combating white-nose syndrome. [KCSR]
GOP donors being subsidized by the federal government to log in the Black Hills are putting pressure on the state's congressional delegation to resist
habitat protection for the black-backed woodpecker
, too.
In response to the rapid and severe decline of the northern long-eared bat – a species important for crop pest control – the U.S. Fish and Wildlife Service is proposing a special rule under the Endangered Species Act (ESA) that would provide the maximum benefit to the species while limiting the regulatory burden on the public. If finalized, the rule, under section 4(d) of the ESA, would apply only in the event the Service lists the bat as "threatened." The Service's proposal will appear in the Federal Register Jan. 16, 2015, opening a 60-day public comment period. "White-nose syndrome is having a devastating effect on the nation's bat populations, which play a vital role in sustaining a healthy environment and save billions of dollars by controlling forest and agricultural pests," said Service Midwest Regional Director Tom Melius. "Although a final listing decision has not yet been made, we believe we can best serve the American people by proposing and seeking comment on a potential 4(d) rule now, so if we determine listing as threatened with a 4(d) rule is appropriate, the rule can be implemented immediately." [press release]
The
Neiman family
is a top GOP campaign contributor who has given generously to Thune and Noem.
Neiman
owns three mills in the Black Hills operating a virtual monopoly and lobbying heavily
in Pierre to pump the handle
(s). They also own
a mill in Colorado
.
The Earth Partners LP, a land restoration and bioenergy development company, announced that it has acquired Deadwood Biofuels LLC, a company based in the Black Hills of South Dakota that produces wood pellets for heating and industrial markets. The Black Hills, where Deadwood's raw material is sourced, is a historically fire-maintained conifer ecosystem. Fire suppression over the past century has allowed the forest to become overstocked and characterized by unbroken stands of old trees, fueling the risk of catastrophic wildfire, insect infestation, and habitat loss. This is fertile ground for the mountain pine beetle epidemic, which has caused trees to rot on hundreds of thousands of acres of Black Hills National Forest and private land. The Earth Partners and Deadwood are using these forest residues, thinnings, and low-grade timber resources to improve forest health. [Rapid City, SD (PRWEB) September 29, 2014]
The mountain pine
beetle is successfully returning water
supplies to depleted Black Hills aquifer recharges while the timber industry would rather just take the oldest trees.
At least one Wyoming mill operator gets it:
Clint Georg, one of the partner-owners of the sawmill in Saratoga, said burning wood to produce steam, in turn spinning turbines to create electricity, is currently being done on a somewhat limited scale. Another potential bioenergy application for wood byproducts is to turn wood chips into biofuel. According to Forisk Consulting, there are three general techniques to convert wood biomass into transportation fuels. [David Lewis, Casper Star-Tribune]
The
Feds are offering grants
to develop alternative and renewable fuels:
Republicans take
the money even when they say they hate big government.
Watersheds are recovering
due to the efforts of the mountain pine beetle to
reduce ponderosa pine infestation
even as state agencies quietly remediate human-caused contamination in the
Waters of the US
.