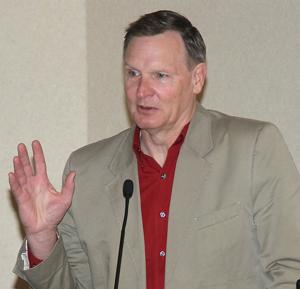 Senator-elect Bernie Hunhoff of Yankton
says he thinks
health care for low income people has to be a priority
in the 2015 South Dakota Legislative session. He says a major road funding proposal will take a lot of time and that there will be debate over a task force recommendation on new water drainage guidelines.
An
interview with Hunhoff can be heard here
.
Keep alive the stories of all the people who paid for our freedom. That was the challenge that the guest speaker, District 18 State Rep. Bernie Hunhoff, gave to students, faculty and other community members at Mount Marty College's Veterans Day prayer service Monday. The newly elected District 18 state senator, local journalist and MMC alum spoke of the huge price South Dakota has had to pay for freedom throughout its history. Hunhoff told the Press and Dakotan in an interview that sometimes people take this freedom we have for granted. [Jordynne Hart,] links mine.
South Dakota's GOP governor will deliver his party's budget address on Tuesday of next week. His Wyoming counterpart wants to expand Medicaid under President Obama's signature health care reform law but that state's Republican-dominated legislature is balking on passage of medical access to the working class and the poor.
Photo: Kelly Hertz